So we just celebrated the Easter holiday, which means different things to different people. For some it is a religious holiday, for others it is a time to gather and enjoy family. In our home it is a weekend filled with egg hunts and Easter bunnies.

First we color hard boiled eggs. These eggs were dyed using uncooked rice and food coloring. Then gently shake them in a jar with a lid. They turn out with a slightly speckled look to them.
This is one type of Easter bunny. We went to a local egg hunt and saw him. All the children line up according to their age, and when the announcer says go, they run and find the candy filled plastic Easter eggs.
So what do you do with all the hard boiled eggs. In our home it is a tradition to make deviled eggs. They don't last very long. They are so yummy!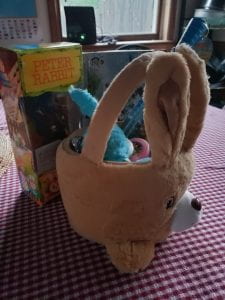 This is a typical Easter basket left for a child on Easter. A few toys and lots of chocolate.
What does Easter look like in your home? Or do you have another favorite tradition?